The Best RIDGID Drain Cleaners for Commercial and Residential Use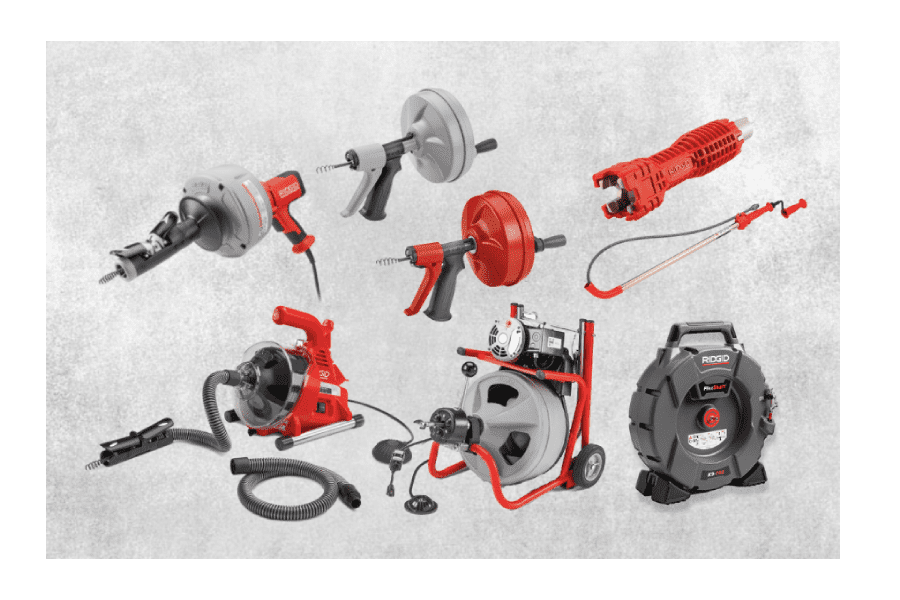 Cleaning up a clogged drain or sink can be nuisance and inconvenience for most people without a proper drain cleaning machine. Hence, choosing the right drain cleaner will save you valuable time and cost. There are many various types of drain cleaners available on the market which are ideal for both commercial and residential use. In this article, we will recommend some of the RIDGID's range of drain cleaning solutions for commercial as well as residential uses.
Drain Cleaners for Commercial Use:
1. FlexShaft Machine
| | |
| --- | --- |
| | Featuring a lightweight and compact design, RIDGID FlexShaft Machines provide fast and efficient wall to wall cleaning in commercial pipes up to 70 feet (21.3m). These machines can be operated simply by a cordless power drill (any branded power drill, sold separately), providing a truly portable solution that can be used anywhere on the jobsite. To clear all the circumference of the pipe quickly and efficiently, the machines employ powerful chain knockers to expand their diameter to fit the pipe. An inspection camera can also be used on these FlexShaft Machines to oversee the entire cleaning process and inspect the results afterward. FlexShaft Machines are available in two models: K9-204, a large and durable FlexShaft Machine that can be used for 2"- 4" large pipelines; The K9-102, a lightweight and portable FlexShaft Machine that can be used for 1-1/4" – 2" pipeline. |
2. K-45 Sink Machine
| | |
| --- | --- |
| | Small drain lines in commercial jobs such as sinks, tubs or showers are best cleaned with the RIDGID K-45 Sink Machines. Its lightweight and portable design make it easy to use, convenient and does not require any setup. There are two types of feed configurations on these machines, manual feed and AUTOFEED that are available now. By using the AUTOFEED, the cable can be automatically advanced or retrieved with ease by the press of the integrated level. A manual version requires the cable to be manually fed into and pulled out of the drum. Both versions of machines have a slide action chuck for quick locking/releasing. |
3. K-400 Drum Machine
| | |
| --- | --- |
| | The RIDGID K-400 Drum Machines are heavy duty and portable drain cleaners that provide fast and highly efficient cleaning for sinks, showers and tub drain lines from 1-1/2" to 4" diameter. A cable control system is equipped with the machines to stop the drum from spinning when the tools stop rotating and the torque exceeds the set value. This feature prevents the cable from flipping over inside the drum. The "Solid-Core "integral wound cable is kink-resistant and durable. The cable features a quick-change coupling system that allows quick connection and disconnection of tools such as the cable cutter heads. The machine also features an AUTOFEED version that allows the cable to be automatically fed and removed from the drum. A manual cable feeding option is also available at a lower cost. The RIDGID K-400 machines have excellent mobility and are easy to use, they are ideal for professional drain cleaners, service installers, facilities, and maintenance departments. |
Drain Cleaners for Residential Use:
1. PowerClear R7 Drain Cleaning Machine
| | |
| --- | --- |
| | RIDGID's PowerClear R7 Drain Cleaner is a powerful and versatile drain cleaner that effectively unclogs tubs, showers and sinks from 3/4" to 1-1/2" diameter drains. The machine features a two-piece guide hose allowing the user to use it for tight applications and an extension for areas with limited access. A heavy-duty inner core cable provides increased kink resistance and increased durability. R7 Drain Cleaning Machines are equipped with an AUTOFEED control that automatically advances and retracts the cable to keep your hands and work area clean. The machine is equipped with a drain plug that drains excess water after use and extends the life of the cable. The RIDGID R7 Drain Cleaner is perfect for residential and commercial use. |
2. Toilet Auger
| | |
| --- | --- |
| | Cleaning a clogged toilet can be a hassle. The RIDGID toilet auger allows you to unclog toilets and urinals quickly and safely with its bulb head. Easy to use and versatile, this toilet auger can be powered manually by hand or by attaching a power tool drill (any branded power drill, sold separately) to speed up the spinning and cleaning process. The cord can be extended to a length of 6' with a quick release adjustment. A great choice for any household use. |
3. EZ Installer Tool
| | |
| --- | --- |
| | Introducing RIDGID's EZ Installer Tool, also known as EZ Change Faucet Tool. The EZ Installer Tool is a feature packed plumbing multi-tool used to install and dismantle under-sink faucets and sink strainers. With durable inserts, these lightweight, highly durable and compact tools perform a variety of faucet installation tasks including basket strainers, supply lines and shut-off valves. Its unique cube insert accommodates a variety of popular nut sizes, while its reinforced body helps with clearance in limited spaces. |
4. Hand Spinners
RIDGID's cleaning solutions come in two popular handheld models. The Kwik-Spin Hand Spinner (57038) is used to clean drain lines from 1/2" to 1-1/2" in diameter. The cable is securely held on the drum to prevent cable pull-out. The Power Spin Hand Spinner (41408) is used to clean 3/4 to 1-1/2" diameter drain lines. The Kink-resistant Maxcore cables are equipped with these Power Spin Hand Spinners for drill powered operation up to 500 RPMs. Both types of Hand Spinners are available in AUTOFEED control which feeds the cable directly into the drain. The hand spinners can be operated with a power drill. The drill tools are attached to the Hand Spinners to speed up the spinning and cleaning process. Ideal solution for cleaning any tubs, showers, or sinks in household or residential areas.
Sourcing for a high efficiency and productive drain cleaner for your commercial or residential use? As an authorized distributor of RIDGID's range of Drain Cleaners, Idemco has over 20 years of experience in distributing a diverse range of high-quality and reliable Drain Cleaners from the RIDGID brand to meet any commercial and residential cleaning requirements.
Explore our website to learn more @ bit.ly/3cgDl1E
Get in touch with us and let us know how we can assist you with your drain cleaning requirement. >> idemco@idemcosb.com.my
Reference: https://www.RIDGID.com/
●

542