RIDGID Drain Cleaners – Product Innovations for Effective and Efficient Drain Cleaning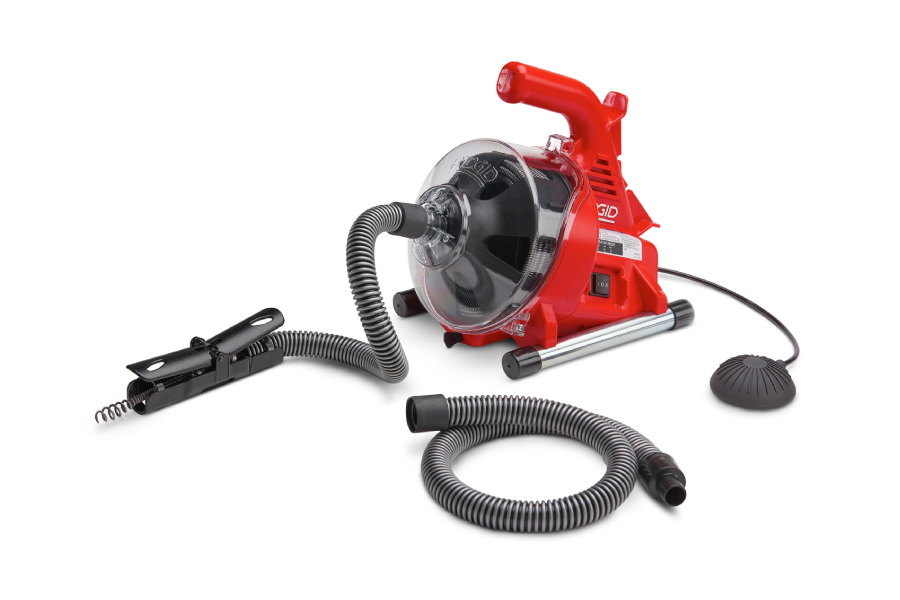 RIDGID R7 PowerClear Drain Cleaning Machine
Clogged kitchen sinks, bathtubs and showers in residential and commercial buildings are inevitable due to the usual suspects: soap scum and hair buildup. It can be a major nuisance, especially if it leads to unpleasant odors and a whole lot of inconvenience.

The RIDGID PowerClear R7 Drain Cleaning Machine can handle blockages in the tub, shower, and sink. With the compact and versatile machine, clogs in lines 3/4" to 1-1/2" in diameter can be easily removed.

PowerClear's Autofeed technology lets users advance and retrieve cables without touching the cable while keeping their hands clean. In addition, a guide hose keeps the work area clean, making it ideal for residential or commercial use.
| | |
| --- | --- |
| Compact at only 5.5kg, the PowerClear is lightweight and easy to handle while still being powerful enough to clear even the toughest blockages. This cable feed machine feeds cable at a rate of 5.5 meters per minute to a maximum of 7.6 meters. A clear cover allows users to view the remaining cable. Also, the heavy-duty inner core cable is designed for long life, increased strength, and kink resistance. The easy pull drain plug prevents corrosion by draining excess water from the machine after each use. | |
RIDGID FlexShaft Drain Cleaning Machine
| | |
| --- | --- |
| | The RIDGID FlexShaft Drain Cleaning Machines offer great versatility and portability into one compact machine. They are high-quality machines that will help you get the job done more safely, with higher accuracy and greater efficiency. The RIDGID FlexShaft Drain Cleaning Machine is an impressive tool that efficiently delivers wall-to-wall clean in 1-1/4'' to 4'' residential and commercial pipes up to 21 meters. Designed with portability in mind, with its weight at less than 18kg, the RIDGID FlexShaft can be deployed anywhere as it can be operated with any good quality cordless power drill; there is no need to hunt for an electrical power outlet anymore! |
| | |
| --- | --- |
| The RIDGID FlexShaft utilises heavy duty chain knockers that can entirely clean the inner circumference of a drain pipe. But what truly sets the RIDGID FlexShaft apart from the competition is its ability to clean the pipe while having an inspection camera in the line, allowing the user to monitor and ensure that every joint is cleaned and cleared of any debris. In addition, the machine uses a cable that spins inside a durable nylon sheath that is housed within a fully contained drum. With the sheath, the cables don't come out as dirty, so it allows for the cable to be easily wiped clean as it is pulled from the line. | |
RIDGID PowerSpin+ Drain Cleaner with AutoFEED
Clogged sink drains are a common problem in almost all buildings and the use of liquid drain cleaners or decloggers can only work to a certain extent before the clog comes back again. With the RIDGID Power Spin+ Drain Cleaner, it's just a simple pull of trigger and turn of the drum for a clean drain without the mess. For a more efficient usage, simply remove the rear handle and attach a cordless power drill to effective clear the clog. The Power Spin's kink-resistant MAXCORE cable is designed for drill powered operation up to 500 RPMs. Built with a sturdy cast aluminum ribbed hand grip and a rotary molded plastic drum, the RIDGID Power Spin+ won't dent or rust.
To purchase or learn more about any of the products showcased above, contact IDEMCO, Official RIDGID Distributor @ idemco@idemcosb.com.my
●

408